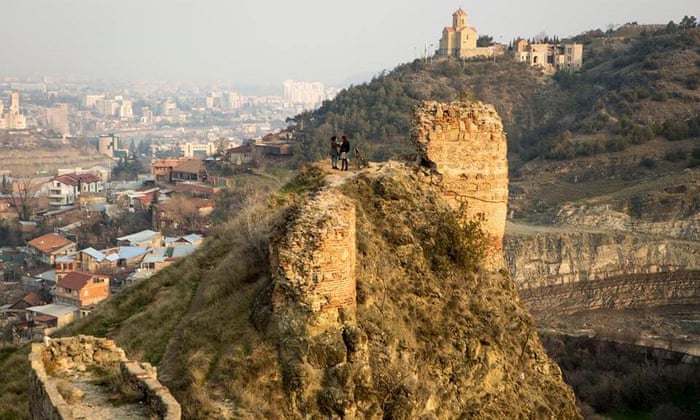 Five-litre bottles of beer, country musicians and questionable modern architecture – scratch the surface of Tbilisi and you'll discover a Georgian city fiercely proud of its patchwork history, constantly trying to reinvent itself.
In five words
The city that loves you.
Arriving at Tbilisi International Airport in tourist season, surprised visitors are handed a bottle of local wine at passport control and are greeted with billboards welcoming them to Tbilisi: "The city that loves you." Stroll down the city's main thoroughfare Rustaveli Avenue on any given evening and you'll come across groups of young musicians busking. Rock music is the order of the day, but you will occasionally hear groups of teenagers playing the phanduri (a traditional string instrument), and singing folk songs from Georgia's Caucasus mountains.
Tucked away behind the communist-era cinema on Rustaveli Avenue, the house of 19th-century lawyer and economist Vasil Gabashvili (built in 1897) in many ways typifies Tbilisi's unique architectural style. An impressive double-storey wooden balcony, carved in traditional style, hangs elegantly from a classical façade replete with decorative baroque elements.
The house was once the residence of notable Georgian physician Nikoloz Kipshidze, who acted as personal doctor to Josef Stalin during his protracted deathbed illnesses. Although Communist authorities planned to destroy this grandiose bourgeois structure, Kipshidze managed to use his connection to Stalin to save the building, and it's now home to his descendent, museum curator Nino Kipshidze and her artist husband Dato Sulakauri.
In the wake of Georgia's bloodless Rose Revolution in 2003, many parts of Tbilisi underwent a radical facelift with modern glass-and-steel structures popping up across the city to reflect the progressive views of the country's new western-oriented president, Mikheil Saakashvili. One section of the Mtkvari River embankment in the city's historical Old City was re-purposed as Rike Park, sweeping aside a number of popular but purportedly corrupt restaurant businesses.
The park's two main architectural features are the Peace Bridge (sardonically referred to as the "Always Ultra Bridge" due to the unusual shape of its glass canopy) and a new concert hall and exhibition centre, which has been likened to a pair of dismembered legs. Construction stalled with a change of government in 2012, and the building remains unfinished, while many locals consider the building an unsightly intrusion on the architectural harmony of the Old City. A graduate of Tbilisi's State Academy of Arts, Eteri Chkadua is known for her vivid and often outlandish portraits, in which minute attention is lavished on faces and facial expressions. Chkadua left Tbilisi and moved to the US after marrying the artist Kevin Tuite. At the time, however, the then-Soviet government regarded her paintings produced at the State Art Academy as government property, and refused to allow them to leave the country. After much bureaucratic shuffling, Chkadua was allowed to buy some of the paintings back, costing her father the equivalent of a month's salary.
https://www.theguardian.com/cities/2016/jun/20/insiders-guide-tbilisi-georgia-protests-free-wine-salted-fish